Take your time and browse through all the great homes with big garages or oversized garages with three or more parking spaces that we have available for sale in Centennial. If you have any questions or would like to see one of these homes, don't hesitate to call me.
Centennial Homes with 3 Car Garages
Centennial Homes with 4+ Car Garages
Centennial Real Estate on 1+ Acres
Find Legal Limits for Garage Sizes in Centennial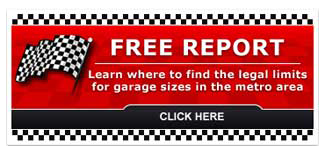 It's not always easy to know whether or not an oversized garage is allowed in the city and county where you live or are thinking of moving to. In fact, at some point in time these questions may have crossed your mind…
• Is my over-sized garage legal?
• Can I enlarge my current garage?
• Can I build another garage on my property?
• If I buy another home how do I know if the garage is legal?
You can get the answers to these and other questions by getting our FREE convenient reference guide.
Quick Search in Centennial
Create your own Search in Centennial
The number of car spaces can be found under the "General" tab and the type of car storage (attached, detached etc) is found under the "Features" tab.